Li Na is the poster child for grit, determination and the fighting spirit. Her comeback to win the Australian Open when she was close to retirement was inspiring to say the least. Her post-match interview was jaw-dropping and her poise as always is unwavering. A true champion that people admire; Li Na is a symbol of inspiration for not only the Chinese but also anyone who simply wants to live up to their potential and be free... truly free to do what they love with passion.
It's that freedom of movement and inspiration that formed a great relationship with us here at SpiderTech and we're so grateful that Li Na continues to use SpiderTech tape in every match. We're incredibly proud of what she has achieved and wanted to share it with anyone who desires to be a true champion. Congratulations for inspiring greatness and gracing the cover of Time Magazine once more.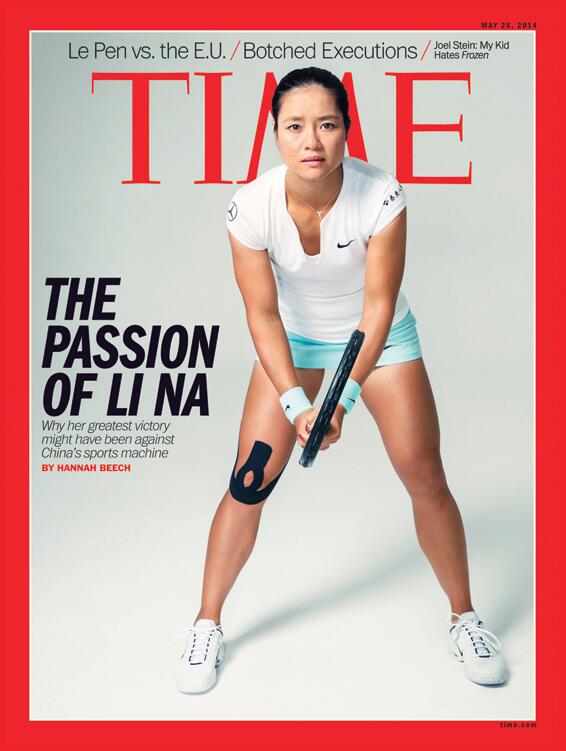 Li Ni Graces the Cover of Time Magazine Wearing SpiderTech Tape
How to Use SpiderTech Tape Like Li Na
To get tape like Li Na you will need our Spider Tape rolls and our Y Power Strips. Take one Y Power Strip and anchor it roughly 3 inches above the knee and tape downwards (spread Y around the middle over the knee cap). Now taking the roll, a piece should be cut 12-15 inches and be applied on the outer side of the knee, brought under the knee cap and over the bottom of the Y Power Strip, then onto the upper inner side of the knee (as shown on the cover of the magazine). You may need to try this a couple of times before you get the hang of it. Or you can try our pre-cut upper knee spider that is pre-cut and ready to go.